Stacker S2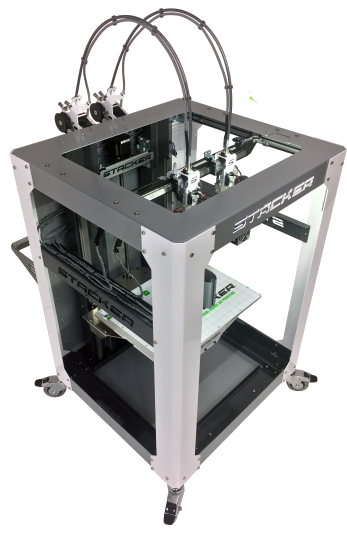 The Stacker S2, is an industrial FDM 3d printer. You can print big !
But the machines had some troubles past month so be careful with it.
Specification
MACHINE TYPE Cartesian robot
FIRMWARE RepRap Repetier
PRINT SPEED 1-250mm/sec
X/Y MOVEMENT SPEED 0 to 250mm/sec
POSITIONAL ACCURACY X/Y 6 microns
POSITIONAL ACCURACY Z 4 microns
LAYER RESOLUTION 0.1mm to 1.0mm
EXTRUDER TEMPERATURE Up to 300°C
HEATED BED TEMPERATURE Up to 110°C
STANDARD NOZZLE DIAMETER 0.40mm
FILAMENT SIZE 1.75mm
PRINTED MATERIALS Most filaments which extrude at temperatures below 300°C
PLA :
hotend: 220°C
bed: 50°C
speed: 50mm/s
ABS:
hotend: 240°C
bed: 100°C
speed: 40mm/s
Brim mandatory
Accessories
2 nozzles with a 1.00 mm diameter
By default with 2 nozzles with a 0.40 mm diameter
Machine volume
X-Axis: 390mm
Y-Axis: 315mm
Z-Axis: 525mm
Please print inside this volume :
x from 0 to 350 mm
y from 20 to 335
Print volume in dual print mode ( 2 exact copies)
X-Axis: 195mm
Y-Axis: 315mm
Z-Axis: 525mm
Slicers:
There's 2 ways to configure your print: using a modified Repetier-Hist called Stacker Run or using Cura. Stacker Run is already set to print with our Stacker S2 but you have to learn a new software (and it's only for Windows). With Cura you have to set it for this machine but, well, it's Cura.

Download Stacker-Run for Windows
Cura profile
For now, we don't have a cura profile file. But you can create your own by filling the information as shown on the screenshot hereunder.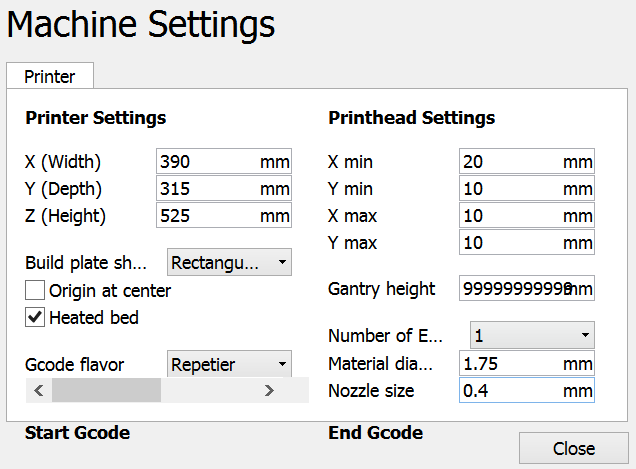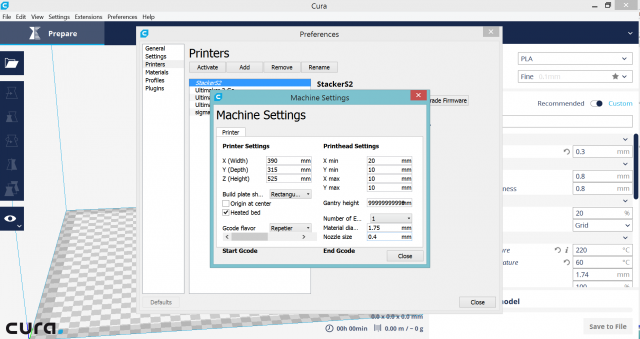 How to level the bed
The bed leveling changes quite easily, so you'll surely have to adjust it during print.
Do it during printing to see the result. Don't get to close !
How to do it:

Take the yellow tool stored in the bottom of the frame: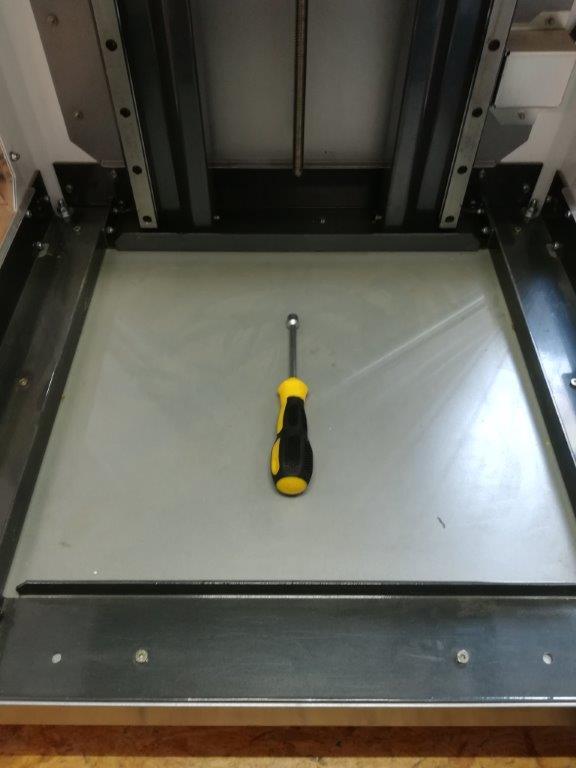 Under the bed there's 3 screws to adjust, simply use the tool to it. Turn clockwise to approach the bed, turn the counter-clockwise to get away.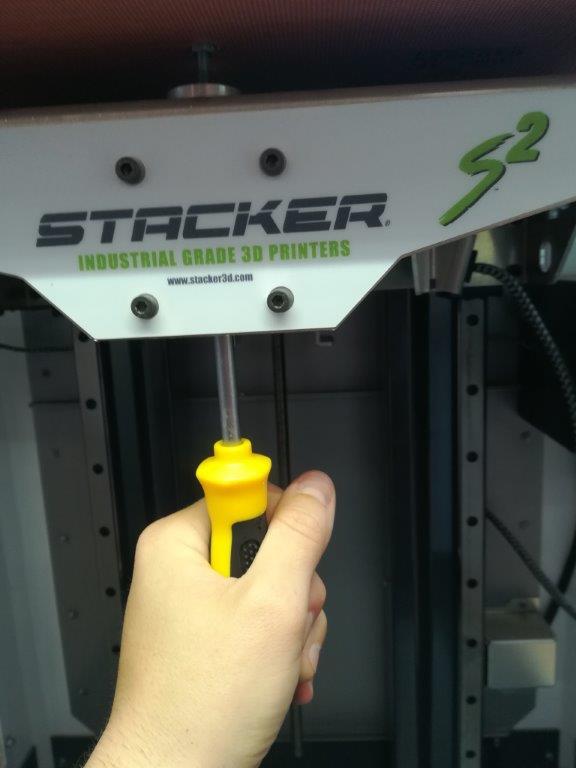 Remerciements
Cet équipement a été acquis dans le cadre de notre programme CASTII soutenu par Feder
Downloads
Info
Difficulty: 3/5
Contributors:
Last updated: June 2019
Links