Stacker S2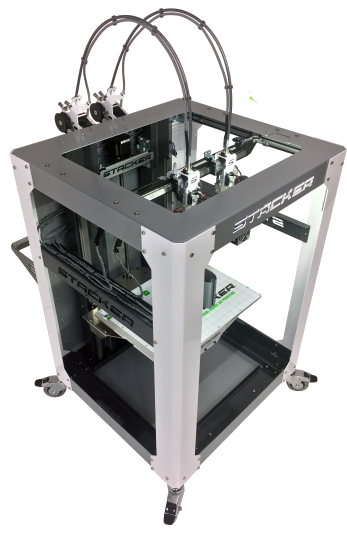 The Stacker S2, is an industrial FDM 3d printer.
Specification
MACHINE TYPE Cartesian robot
FIRMWARE RepRap Repetier
PRINT SPEED 1-250mm/sec
X/Y MOVEMENT SPEED 0 to 250mm/sec
POSITIONAL ACCURACY X/Y 6 microns
POSITIONAL ACCURACY Z 4 microns
LAYER RESOLUTION 0.1mm to 1.0mm
EXTRUDER TEMPERATURE Up to 300°C
HEATED BED TEMPERATURE Up to 110°C
STANDARD NOZZLE DIAMETER 0.40mm
FILAMENT SIZE 1.75mm
PRINTED MATERIALS Most filaments which extrude at temperatures below 300°C
PLA : 220°C
Accessories
2 nozzles with a 1.00 mm diameter
By default with 2 nozzles with a 0.40 mm diameter
Machine volume
X-Axis: 390mm
Y-Axis: 315mm
Z-Axis: 525mm
Please print inside this volume :
x from 0 to 350 mm
y from 20 to 335
Print volume in dual print mode ( 2 exact copies)
X-Axis: 195mm
Y-Axis: 315mm
Z-Axis: 525mm
Multi-material Print Mode
Work in progress.
Cura profile
For now, we don't have a cura profile file. But you can create your own by filling the information as shown on the screenshot hereunder.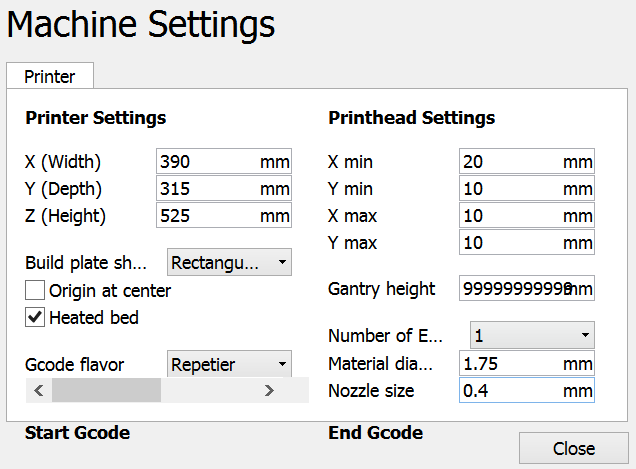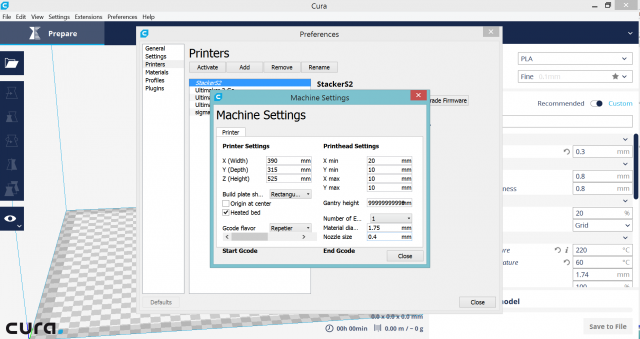 Remerciements
Cet équipement a été acquis dans le cadre de notre programme CASTII soutenu par Feder
Downloads
Info
Difficulty: 3/5
Contributors:
Last updated: 1 year ago
Links