3D printed case for OpenPilot multicopter control unit
Radio Controlled vehicles is part of my hobbies.
I am flying multicopters (or at least I try to) with OpenPilot control boards, and I used the FabLab's 3D printer to make protection cases.
In the beginning...
For my first attempt, I just downloaded a ready-made case in STL format:
It does the job, but unfortunately you don't see the LEDs on the board anymore as it is fully enclosed...
(Re) Design: OpenSCAD
Based on various cases I found on the net, I decided to build my own from scratch, using OpenSCAD for the design. I don't have much experience with 3D modeling software, and I decided to give it a try with OpenSCAD for 2 main reasons:
It is Free Software (GPL License)
It is a script based, CAD oriented modeler, which fits the purpose of this exercise, as the parts are rather simple, but the exact size matters.
Also OpenSCAD allows parametric modeling, so it is very easy to make variations of the initial model.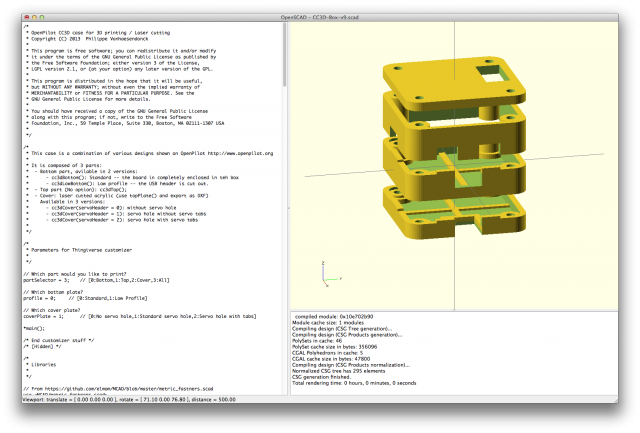 The new case is composed of 3 parts:
A bottom part, available in 2 versions: Standard and low profile
A top part
A cover plate which will be exported as DXF and cut in Acrylic Glass on the laser cutter
The case is available for download on Thingiverse, and the various versions can be seen in the Customizer (You need a free Thingiverse account to be able to run the Customizer).
Printing
Actual printing was made on the FabLab's UltiMaker. It seems that the object is shrinking slightly at print time, so I had to apply a 102% scale factor to keep the size defined in openSCAD
In the end: the new case
All parts and configurations examples:
On the copter: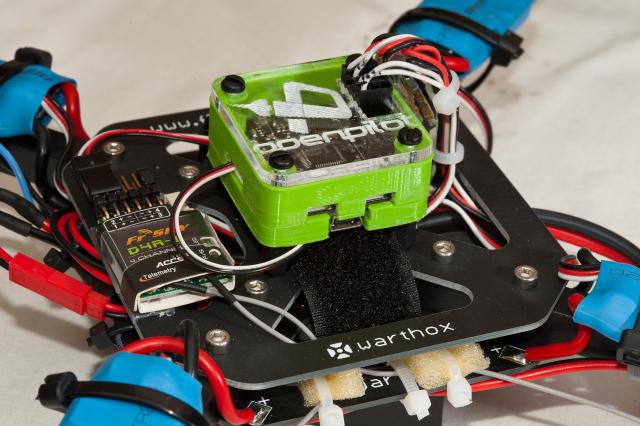 Info
Date: May 2013
Last updated: 8 years ago