Use of Cura Versions from 2.4.0 to 2.7.0
Text vers 4 of Oct 4th of 2017
There are 32 bits versions like Cura 15.04.6 : it is a simple and stable version.
For the Mendel 90 printer : Configure the preferencies.ini as explained in the "How to print with Mendel 90".
There are 64 bits versions : Cura 2.1.3 and Cura 2.3.1 and the following.
Cura 2.1.3 works with Ultimaker 2 Go and the Mendel 90 configured as Prusai3.
But is it not the last version.
After installation, after choosing Prusai3 printer you don't see the parameters.
Here is the process to resolve this problem:
After installing the soft, open it. Click on help then "show configuration folder".
Close Cura. No other Cura version must run.
In the configuration folder, clear ALL folders, except the 15.04.6 folders if any.
Warning: this will remove all profiles, machines, user preferences.
Restart Cura: it works
Cura 2.3.1 comes from Cura 2.1.3.
It works immediately with the Ultimaker 2 Go printer.
With this version even if you see the parameters for the Prusai3 and set it, the extrusion doesn't work.
Do the same as for Cura 2.1.3 if you want to work with the Mendel 90 printer.
With these versions, Profiles are not well managed.
The next version : Cura 2.4.0
To work with the Mendel 90 ( Prusai3 ) do as with Cura 2.1.3 and 2.3.1

It seems to manage Profiles well.
In test.
Here this version loaded with a Pinion Gear; It looks like Cura 2.3.1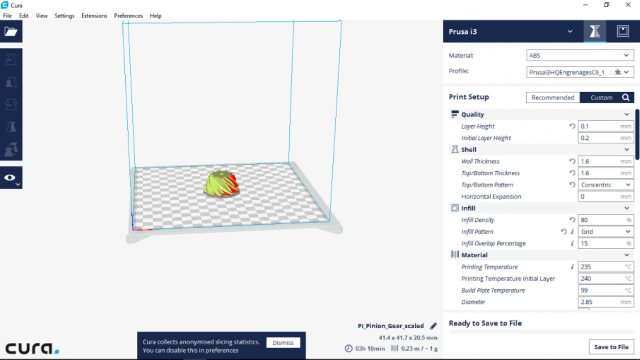 Now we use Cura 2.7.0
Info
Difficulty: ●●●○○
Contributors:
Last updated: October 2017